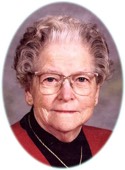 Birth
4 Apr 1918, Edna Township of Otter Tail County
Death
15 May 2005, Wadena, Mn - Tri-County Hospital Age: 87
Burial
Bluffton, Mn - St. John the Baptist Catholic Cemetery
Spouses
Burial
Bluffton, Mn - St. John the Baptist Catholic Cemetery
Marriage
19 Oct 1937, St. Lawrence Catholic Church in Rush Lake
Obituary Notes for Luella Saraphine Beringer
Luella Saraphina Beringer was born to her parents Martin & Regina (Silbernagel) Beringer on April 4, 1918 on the family farm in Edna Township of Otter Tail County. She passed away at Tri-County Hospital on May 15th 2005.

Luella was united in marriage to Ludwig (Louie) Peter Wegscheid on Oct. 19, 1937 at St. Lawrence Catholic Church in Rush Lake. Ludwig & Luella lived in the Perham area before farming near Bluffton. Louie passed away on Jan. 28, 1978. Luella was a wife, a mother, a grandmother, a homemaker and a friend to many. She enjoyed decorating cakes, making quilts, working in the church, spending time in her garden and with her flowers.

Besides her husband Louie, Luella is preceded in death by her parents; daughter Susan (1943); brother Ambrose Beringer and her twin sister Kathryn. She is survived by her son Martin (Carol) of Bluffton; daughters Vera (Paul) Malone of Wadena, Regina (Bill) Weniger of Bluffton, Sister Luella Wegscheid, OSB of Duluth, Carolyn (Arnie) Richter of Sebeka & Marcy (Ed) Anderson of East Grand Forks; 29 grandchildren & 63 great-grandchildren; sisters Lorene (Leonard) Wegscheid of Perham & St. Martin Beringer OSB of Duluth.

Burial will take place next to her husband in the St. John the Baptist Catholic Cemetery in Bluffton following the services.
Family Letter Notes for Ludwig (Louie) Peter & Luella Saraphine (Family)
When Louie was born, he had 4 brothers and 2 sisters older than him so his jobs were varied as he was growing up. He helped with the farm work, but also assisted his mother in the house, especially after Scholastica, got married, when there were 5 siblings younger than him.

Dad enjoyed playing baseball with his brothers and the neighbors when they got together. Several years he played on the Bluffton baseball team. As we grew up, we, too, spent many Sunday afternoons watching games and cheering on the team.

Louie and Luella met April 6, 1937, at Gust and Helen Peters wedding dance at the Bluffton Hall. That was the beginning of their courtship. They were married on October 19, 1937, at St. Lawrence Catholic Church in Rush Lake.

They rented a farm 2 miles north of Bluffton for a year, then purchased the Watrin farm, 1 mile north of Bluffton. There they farmed the land, raised pigs and chickens and milked cows.

Louie and Luella had 7 children. When Susan, the firstborn, was 5 years old, she died from congestive heart failure due to complications of bronchial pneumonia. There are 28 grandchildren and 55 great-grandchildren. (as of 2003)

Prayer and practicing our Catholic faith were an important part of our life. Missing Mass on Sunday just wasn't an option.

Dad and Mom had a real love for people and everyone knew they were welcome at our house. When we were teenagers. Dad would flood half of the yard to make a skating rink. He'd catch a terrible cold each year when he did it, but that never stopped him. Mom made gallons of hot chocolate and hundreds of pounds of BBQ mix to feed everyone after skating.

Dad and Mom have both been able to locate underground water by "witching." The interesting thing is that Mom was unable to "witch water" until after Dad's death. Games, card playing, quilting and visiting were some of our family's favorite past-times. When Dad had his first heart attack in May 1974, he was playing cards in the church basement after a Sunday night bingo game.

That summer Dad and Mom had a house built in Bluffton on land they purchased from Alphonse and Theresa. They moved in during October 1974. Mom and Dad were able to enjoy some time together before Dad passed away in January 1978. Mom continues to live in their home, and Marty and Carol own the home farm north of Bluffton.

Vera and Regina