Spouses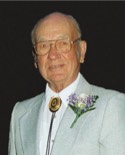 Birth
21 Oct 1921, Bluffton , MN
Death
5 Jun 2016, Wadena, MN Age: 94
Obituary Notes for Rommanus Mathias (Roman) (Spouse 1)
The memorial service for Roman "Romy" Wegscheid will be at 10:30 AM on Wednesday, June 8, 2016 at St. Hubert's Catholic Church in Bluegrass with Father Arlie Sowada presiding. Visitation will be held at the church one hour prior to the service, with a Knight's of Columbus Rosary at 9:30 AM. Romy passed away on Sunday, June 5, 2016 in Wadena.

Romy Wegscheid was born on October 21, 1921 in Bluffton to Gregor and Susan (Hansen) Wegscheid. Romy completed the 8th grade and in the summer of 1942 he enlisted into the U.S. Army. A year after being honorably discharged from the Army, Romy married the love of his life, Rose Doll, on February 27, 1946.

Together they lived in Montana for a couple years, before settling in Kingman, AZ for over 50 years. They moved back to Minnesota in 2015. Romy was active in his local Knights of Columbus, VFW, Eagles, American Legion, and Elks clubs. He enjoyed hunting and fishing, and was always up for a game of cards. He also liked playing golf and bowling.

He is preceded in death by his parents, Gregor and Susan; daughter, Tamala "Tammy" Teresa, along with 9 brothers and 4 sisters.

Romy will be missed by his loving wife of 70 years, Rose; children, Vernon "Butch" (Jo) Wegscheid of Henderson, NV and Darrell (Teresa) Wegscheid of Tualatin, OR; 9 grandchildren, 16 great-grandchildren and 2 great-great-grandchildren.

Serving as pallbearers will be Paul Malone, Ken Price, Ervin Price, Harlan Wegscheid, Willie Doll, and Levi Doll.

In lieu of flowers, the family requests donations in honor of Romy to Wadena Relay for Life.
Family Letter Notes for Rommanus Mathias (Roman) & Rosamond (Family)
Romy and Rose were married, at Bluffton in 1946. They lived in various places in Minnesota until 1948, when they moved to Montana, and to Arizona in 1950 for Butch's health because he had asthma.

Here, Romy eventually started his own business (1958) as a meat cutter and butcher, a trade he learned from his uncle in Long Prairie, Minnesota. Rose was an LPN and dress store owner. She was able to send many outfits for Ambrose's children when Hildegard died. She left this business behind to be bookkeeper and to help Romy in his business, which they called "The Market Basket". Romy went out to the country to slaughter animals for ranchers until 2003. Kingman where they currently live (2008) has been growing with more and more of the Snowbirds taking residence there.

Romy has always enjoyed hunting and card playing. Rose has enjoyed card playing, sewing and crafts.

Together, through the years, they have welcomed a host of friends and relatives traveling to the south.

Their love of children has been evident as they have cared for and loved foster children as well as adopting two children. The children live pretty much in Arizona and thereabouts.

Isabelle and Vera