Spouses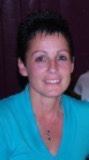 Birth
14 Oct 1961, Buffalo, MN
Death
7 Nov 2007, Unity Medical Center in Grafton, ND Age: 46
Obituary notes for Lucinda (Cindy) Mary (Spouse 1)
Lucinda "Cindy" M. Flicek, age 46 of Grafton, ND passed away on Wednesday, November 7, 2007 at Unity Medical Center in Grafton, ND after a courageous battle with brain cancer.

Cindy was born to the late Norman G. and Dorothy (Sharp) Wegscheid on October 14, 1961 in Buffalo, MN. She grew up and received schooling in Bluffton, MN and Wadena, MN. Following her education she moved to Grafton where she worked at the Grafton Developmental Center. She married Rob Evenson on March 25, 1988. She owned and operated Tot's on 10th Day Care for 14 years. She was a member of St. John the Evangelist Catholic Church in Grafton. She married Doug Flicek on November 24, 2006 in Grafton. When Cindy was a child her parents were killed in a car accident; she and her siblings were then raised by their aunt and uncle Wilbert and Lorraine Tellers.

Cindy is survived by her husband Doug of Grafton, ND; daughters: Ashley Evenson of Fargo, ND and Amber Evenson of Grafton, ND; brothers: Michael (Sue) Wegscheid and William (Rita) Wegscheid of Wadena, MN; sisters: Lori (Jon) Matti of Key West, FL and Pamela (Joel) Schwartz of Lakeville, MN; extended family: Marilou (Bill) Heltemes, Jan (Mike) Buchholz, Patti (Brian) Hillesland, Shelley (Jarvis) Hieb all of Wadena, MN; Cheri (Dean) Endres of Bluffton, MN; Colleen (Brad) Lehmkuhl and Joe (Krissy) Tellers of Sebeka, MN; and several nieces and nephews. She was preceded in death by her parents Norman and Dorothy Wegscheid.

Mass of Christian Burial will be Monday, November 12, 2007 at 10:30 AM at St. John the Evangelist Catholic Church in Grafton. Visitation will be Sunday from 5-7 PM at St. John the Evangelist Catholic Church. A prayer service will be held on Sunday at 7 PM at the church. Friends may also call at the church on Monday for one hour before the time of the service. Interment will be at St. John's Catholic Cemetery, Grafton, ND.

The Tollefson Funeral Home of Grafton is in charge of the arrangements.