Spouses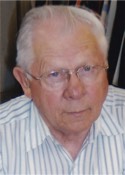 Marriage
2 Jun 1965, St. John The Baptist Catholic Church in Bluffton
Obituary notes for Gilbert William (Spouse 1)
Gilbert William Wegscheid was born on November 20, 1937 in Bluffton, Minnesota. His parents were the late Joseph Michael and Margaret Mary (Peters) Wegscheid. Gibb was baptized on November 21, 1937 at St. John The Baptist Catholic Church in Bluffton. He attended District #148 in Bluffton Township. He proudly served in the United States Army from 1955 to 1957. On June 2, 1965 Gibb was united in marriage to Diana Faye Wiitamaki at St. John The Baptist Catholic Church in Bluffton, Minnesota. Their marriage was blessed with four children. Gibb was in the car industry in New York Mills from 1957 to 2014 where he truly enjoyed meeting people and selling cars. Gibb was a member of the Bluffton Lions Club. Gibb enjoyed hunting, fishing, spending time with family and having coffee with friends. On August 10, 2014 Gibb passed away at his home surrounded by his loving family and Legacy Hospice. He will be dearly missed by his family and friends.

Preceding Gibb in death was his daughter, Sheila Ann; parents, Joseph & Margaret; siblings: Norman (Dorothy) Wegscheid; Lorraine (Wilbert) Tellers; Loretta Theisen; Wilbur Wegscheid and John Wegscheid.

Gibb is survived by his loving wife, Diana of New York Mills; daughter, Rhonda (Blaine) Glodowski of Bloomer, Wisconsin; sons: Dean (Brenda) Wegscheid of New York Mills; Mark (Jodi) Wegscheid of New York Mills; 8 grandchildren; 5 great-grandchildren; sisters: Gloriann (Butch) Waln of Wadena; Jeanie Brever of Alexandria; brother, Elmer (Joyce) Wegscheid of Wadena; brother-in-law, Arnold Theisen of Wadena; sister-in-law, Mary Lou Wegscheid of Wadena; many other relatives and a host of friends.