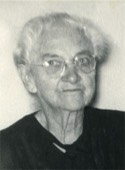 Birth
8 Dec 1868, Ottertail County
Spouses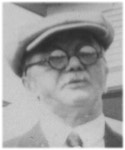 Birth
13 Mar 1858, Germany
Obituary notes for Barbara Seifert
Perham Enterprise Bulletin
Perham, Otter Tail County, Minnesota
Thursday, August 16, 1956
Mrs. Silbernagel Dies at Age 88
Mrs. Adam (Barbara) Silbernagel of Dent died at the St. James hospital on august 11. She was 88 years old. Barbara Seifert, daughter of George and Elizabeth Seifert was born in Perham Township on December 8, 1868. She spent her lifetime in the Dent area. In 1887 she was married to Adam Silbernagel. Eight children were born to this union. One daughter, Elizabeth, one son, Alois, and her husband preceded her in death. Survivors include, six children, Mrs. matt Winkels of Dent, Paul of Perham, Carrie (Mrs. Elvin Malkuson) of Onimia, Joe of Minneapolis, Regina (Mrs. Martin Beringer) of Perham, Frances (Mrs. Charles May) of Minneapolis, one brother, John Seifert of Perham; 35 grandchildren; 117 great-grandchildren and five great-great-grandchildren. Funeral services were held at the Sacred Heart church in Dent on August 14 with Rev. J. Besselaar officiating. Interment was made in the St. Joe cemetery. Pallbearers were Kenneth May, Archie Chaska, Adam Winkels, Ambrose Winkels, Ambrose Berlinger, Arthur and William Silbernagel.
Obituary notes for Adam (Spouse 1)
Perham Enterprise Bulletin
Perham, Otter Tail County, Minnesota
Thursday, August 25, 1927
Another Old Timer Gone
Adam Silbernagel Died Saturday - Was Pioneer Resident of Edna Township
Another of the pioneer residents of Otter Tail County joined the great majority when on Saturday, August 20th Adam Silbernagel of Dent answered the final summons. Mr. Silbernagel died from sarcoma which started in his eyes and finally spread over his body. Born in Germany March 13, 1858, he came to America in 1876. After residing in Sheboygan, Wisconsin for two years he came to Otter Tail county and took up a homestead in Edna township, being among the first of the settlers in that locality. His marriage to Barbara Seifert took place on August 31, 1886. To them eight children were born, two of whom, Elizabeth and Alois preceded him in death. Surviving him are his wife and the following children: (Sarah) Mrs. Math. Winkles, Edna town; Paul of Dent; Joseph of Minneapolis; (Carrie) Mrs. A. E. Markuson, Minneapolis; (Regina) Mrs. Martin Berringer, Perham; (Francis) Mrs. Chas. May, Minneapolis. He leaves thirty-two grandchildren. The funeral was held on Tuesday morning at Sacred Heart church in Dent and was attended by a large number of friends and relatives. Rev. Fr. Odilo Kohler of St. John's at present in charge, officiated in the requiem and Rev. Fr. Wildenborg of St. Joe said the last rites at the cemetery, the burial being in the cemetery at St. Joe. The St. Joe Society met the body at the cemetery and the St. Joe choir sang a hymn. Mr. Silbernagel spent nearly all of his 69 years of life in this vicinity. He retired from active farming in 1918. He moved to Minneapolis shortly afterward and remained there for two years returning to his old neighborhood to live about six years ago. He located in Dent and continued to live there until the last summons. The following from outside points attended the funeral: Jos. Silbernagel and family, Minneapolis; Mrs. Markuson and family, Minneapolis; Mrs. Charles May, who was here spending her vacation; Wm. Fiedler and family of St. Joseph's Stearns County; Rose Pfannenmeister, St Joseph's; Francis Winkles and Hubert Kramer both of Barnesville.