Spouses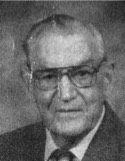 Birth
20 Mar 1920, Corliss township Perham, MN
Death
2 Apr 2002, Perham, MN Age: 82
Obituary notes for Lucille Hintzen
Lucille Steeke

Jan. 26, 1920-Sept. 14, 1997

The funeral for Lucille L. Steeke, 77, Perham, was Wednesday at St. John's Lutheran Church, Corliss Township, rural Perham. Interment was at the church cemetery. She died Sunday at MeritCare Hospital, Fargo.

Survivors are her husband. Herb, her mother, four sons including Randy (Linda) Hintzen, Frazee, and Leigh Hintzen, Perham, a daughter, five step-daughters including Kendra Wolford, Perham, three brothers, two sisters, seven grand-children, 10 great-grandchildren, 19 step-grandchildren and three step-great-grandchildren.
Obituary notes for Herbert (Herb) Edwin (Spouse 1)
Herbert Edwin Sreeke, age 82, of Perham, MN, died at the Perham Memorial Nursing Home Tuesday, April 2, 2002. Herb was born March 20, 1920, in Corliss Township, rural Perham, MN, to Fred E. and Lydia (Huwe) Stccke. He attended District 277 country school in Corliss Township through the eighth grade. Herb farmed with his father until the age of 16 when he purchased his own farm. On April 23,1945, Herb and Lillian Hill were united in marriage. Of that union were born one son and five daughters. They farmed together until her death. He later married Lucille Hintzen on October 28, 1972. They moved off thc farm into Perham in 1995. Herb moved into Briarwood in 1998 where he enjoyed many friendships, games, and cards. He was A member of the Corliss Lutheran Church throughout his entire life. He was baptized, confirmed and married at the church. He was an active member of NFO and a fire warden for many years.

Surviving Herb is his special friend Myrtle Schiller, his five daughters, Cheri (Gary) Eifert of Windsor, CO, Linda (Jerry) Ronning of Dent, MN, Karia (Don) Breitenfeldt of Faribault, MN, Shirley (Russell) Steele of Pairmonc, MN, and Kendra Wolford of Perham, MN, twenty grandchildren; ten great-grandchildren, and many nieces and nephews. Preceding Herb in death are his parents; his first wife, Lillian, who died May 11,1971, and second wife, Lucilie. who died September 14, 1997; his son Gary, who died March 2, 1980; his grandson, Daniel Breitenfeldt; two brothers, Bernard and Walter Steeke, and one sister, Bernice Steeke, and one stepson, Leigh Hintzen.